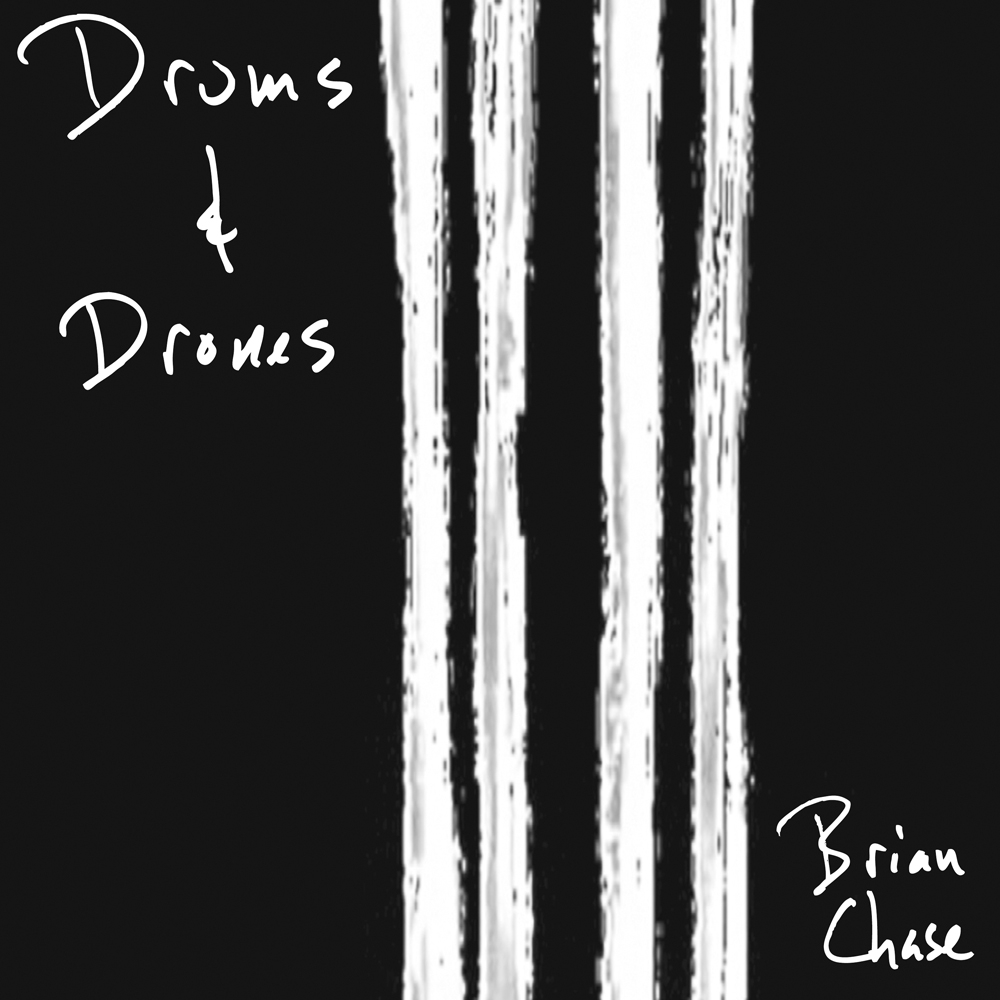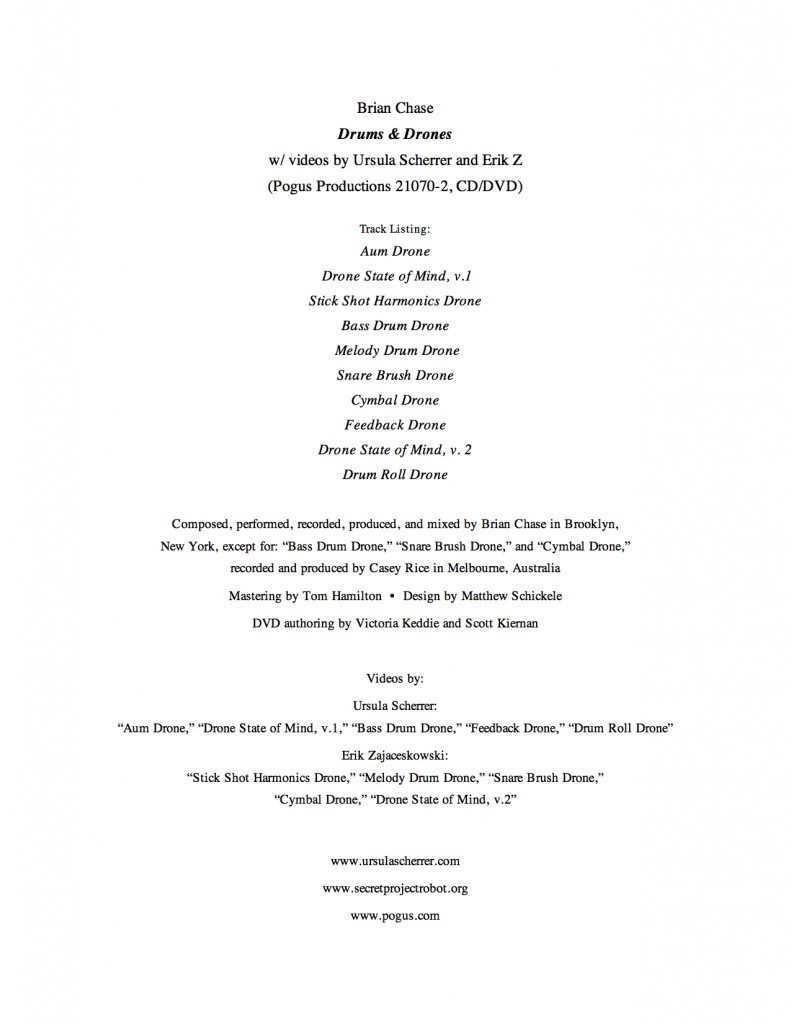 Liner note exerpts:
I sit and I listen; the physicality in wave relationships washes over me; thoughts and emotions, in relationship with one another, come into balance in their place of being. In time, settling and subduing, the periodicity of the tones steadies the vibrational impulses; I can see beyond what I identify as it to a point beyond identification, seeing. I gain perception from exposure, and not being able to experience all at once, my piece is it as it is a part of the entirety itself. From a multitude, one emerges, and from one, a multitude.. Perceptibility expands in its stillness, as expression, complete in itself. All I have to do is listen.
Drums and Drones began for a concert at the Stone, John Zorn's club in NYC, on February 1st of 2007.  Mary Halvorson, a Brooklyn based guitarist, was curating the month there and asked me if I'd be a part of it.  I took this as an opportunity to present new work, and I did.
With the pieces that were developed for this concert, a starting point was formed for what was to grow into a recording project.  I had the idea of approaching the project as being a series of etudes, each one a study in the different ways of the application of the Just Intonation tuning theory to drums and percussion.  As I experimented with various methods, I began developing more pieces with each one showcasing a specific playing technique and focusing on a complimentary set of overtones.
In this initial stage, which lasted from 2007 through 2008, I developed a basic method which laid the groundwork for a 'how- to' of D & D: 1) tune the drum head to a specific fundamental frequency 2) mic the drum and run the sound into a computer 3) with recording software, use very precise, a.k.a. "surgical," equalization to isolate and boost the frequencies of the drum's overtones. (The fundamental I would use was most typically 60Hz, like La Monte, because it is the frequency at which Con Edison generates its electricity.  In theory, the pieces on this album should be in tune with the hum of electricity  in the environment.)
The impetus for the next phase of Drums and Drones came with an invitation to perform in May of 2010 at the Melbourne International Jazz Festival, courtesy of Sophia Brous, a Melbourne based singer/band leader/visionary… For this concert, I had it in mind to change my technique of approaching D & D as a live performance vehicle; I wanted greater user friendly equipment, particularly computer software that interacted more fluidly with the acoustic instrument…  I took a friend's advice and brought Ableton Live with a MIDI controller into my set up… Now with Live and a MIDI controller I could 'play' that computer like it was an instrument, so to speak.    The pieces developed in this second phase are the most dynamic of the bunch, as they are very much about more dramatic gestural and textural changes.  Bringing the MIDI controller into the set up greatly enhanced the ease and range of expressivity between the acoustic drum and the electronic software.
While still in Australia I decided to record the material that I had developed for the solo performances [at the MIJF and the Make It Up Club].   I reached out to Casey Rice, an established live sound and recording engineer originally from Chicago who had moved to Melbourne…  We took two days to record, doing full takes of the four pieces on each day if I am remembering correctly.  These are the only tracks on this album which were recorded by someone else and with the guidance during this process of another set of ears… On this album the tracks from this second phase are: "Bass Drum Drone," "Snare Brush Drone," and "Cymbal Drone;"
The 'third phase' of material had its beginnings in August of 2010 for a concert at the Cinders Gallery in Williamsburg, Brooklyn.  The pieces developed during this phase seemed to put more of an emphasis on the process of listening: finding stillness in sustained environments and letting our ears open to the subtleties of sound in sustained exposure; the perception of time ceasing to matter and what remains is absorption in the experience of sound.  [During the final stages of tracking for the recording of this material], I remember I was working on one piece, all the way up to sunset on [a] Friday night, and let the loop play as I stepped away from the drums and computer, knowing I wasn't going to be back to it until Sunday afternoon.  On that Saturday night, New Year's Eve, I played the two sets for the Stone Improv Night which is a thrilling experience and an honor, and then headed back to Brooklyn to spend the turning of the year with a big group of friends. The next morning I got up early to meet my family for brunch, and after that made it back home, picking up where I left off almost two days earlier with the loop still running.  In recalling this now, it's nice to notice how the Stone, friends, and family, are at the bookends of the process for the creation of the material.  The tracks on this album from this third phase are: versions 1 and 2 of "Drone State of Mind," "Melody Drum Drone," and "Feedback Drone;"
Anchored amidst the changes is the constant that is at the source – I am still me, We are still We, and It is still It, as we go about expressing that which never changes, the fundamental that is the root at the core, the 1 of the 1/1, so to speak.
Notes on the video artists:
Erik Zajaceskowski, along with Rachel Nelson, who helped greatly in the making of Erik's videos, runs the Brooklyn gallery and performance space, Secret Project Robot.  This venue is a leading cultural center for the arts community in Bushwick and Williamsburg.  Gallery installations, music performances, 'Noise Salons,' birthday parties, and holiday sales, are a small sampling of the events that go on here.  Every one from prominent figures in the Brooklyn music/arts scene who have been around since 'back in the day' to those who are new to the 'hood regard SPR as 'home base.'  I first came across Erik's work when he was doing video for early Williamsburg bands such as Oneida and Yeah Yeah Yeahs as part of the legendary Mighty Robot A/V Squad back around the um, turn of the century.  He quite literally mesmerizes and entrances audiences, blending amusement and playfulness in the liberation of form and color, bringing about an awesome sense of 'wow.'  It's been that way for me as I've experienced it continually over the years in environments ranging from crowded rock shows, to sound-art performances, to multimedia gallery installations.  Following the close of the Mighty Robot performance venue came the opening of Secret Project Robot, a gallery and performance space which was on one of three floors of the 'Monster Island' building; it was here that Erik and I did our first of several live video with audio collaborations.  After the end of the Monster Island era, Secret Project Robot relocated out of Williamsburg and established firm ground in Bushwick.  This is the space which I think of as home now when I think of the heart of the Bushwick/Williamsburg arts scene, and also where Erik and I have continued our collaborations.  It's an amazing and very special place to hang out, see mind blowing performances, and check out mind expanding art, thanks to the strength of vision and curatorial powers of Erik and Rachel, in addition to their dedication and tireless work.
I first became aware of Ursula Scherrer through her affiliations with La Monte Young and Marian Zazeela.
I was working at the Dream House and I would see Ursula's name around and only knew that she worked closely and personally with La Monte and Marian.  Somehow, I ended up on her mailing list, and would get notifications of her live video performances that she was doing in the US and across Europe, in addition to special NYC events such as OptoSonic Tea, an audio/visual happening that she co-hosts with Katherine Liberovskya.  Ursula had been working with those who have come a little bit before me and who have helped establish the path on which I now walk, so meeting her for the first time had me a little nervous.  I first saw her perform at small gallery space in Brooklyn, the Microscope Gallery (the same concert at which I met filmmaker and later collaborator Tenzin Phuntsog), where she was doing live visuals to live improvisations by Shelley Hirsch and David Watson.  I introduced myself then, and it wasn't too long after that possibly that we met again after another performance.  It was apparent that we had some mutual friends and shared similar artistic interests that when it came time for me to put together a Drums and Drones show I asked her if she'd do video for it.  The show was in November of 2011 at the La Sala art space in Williamsburg.  I shared the night with David First, composer/guitarist/electronic musician and also member of the pioneering 'art-rock' band the Notekillers.  David is also someone who has come before me and has contributed, and continues to contribute, to establishing and setting the path with his music and writings which many of us now walk.  To share a night of music and video with David and Ursula is an honor.  The night went very well and we followed it up with a second performance in February of 2012.  Many thanks go to violist and concert promoter Jeanann Dara of La Sala for her support and making these concerts possible.  From performing with Ursula in these concerts, it became apparent the outstanding impact video has on the presentation of the Drums and Drones material, and how well that material lends itself to video.
AVAILABLE AT WWW.POGUS.COM